Overview
Event Permalinks are very useful for scenarios where you have regular events such as a Monthly All Hands or CEO Townhall meeting. Permalinks, as the name suggests, are permanent links that you only have to share with viewers once, for example in a recurring calendar invite. This helps viewers as they always know where to go for the next All Hands meeting and also saves you precious time by avoiding having to share new links. Once you've created a permalink, then all you have to do is change the event that's associated with the permalink.
This guide will show you how to create an Event Permalink and how to use them.
Creating A Permalink
1. Navigate to Streaming Events in the side menu and click on Event Permalink. Then click the Add New button.

2. For the Permalink Alias, enter the alias you want to use. You could use the event type and as an example, enter 'monthly-townhall' as the Permalink Alias. Next, select your upcoming Event from the dropdown menu. We've selected the event 'ceo-townhall-june2018-2juqei'. Click on the Create button to link it to your Permalink Alias.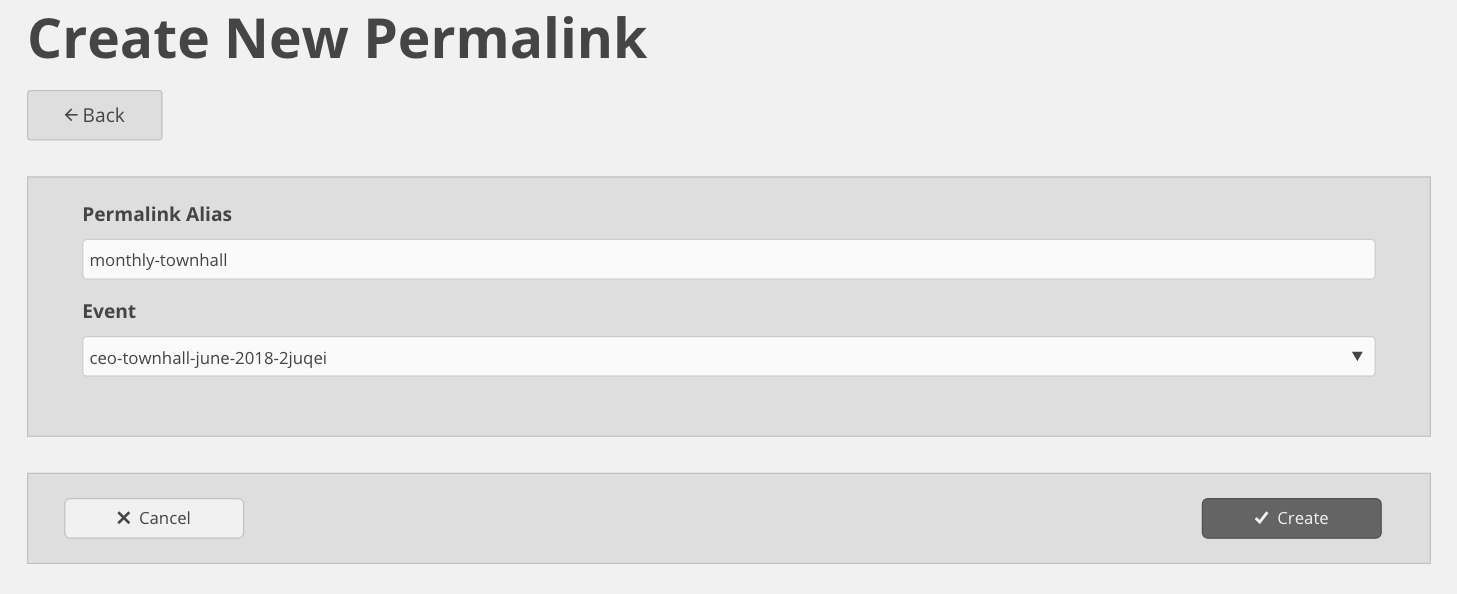 Using the Permalink
3. The'monthly-townhall' alias we created in the above step is now visible on our Manage Permalinks page. We can now share the Permalink url and/or use it in a calendar meeting invite if required.

Editing the Permalink
4. For Events with DVR Turned OFF, as you can re-use the events, you don't need the edit the Permalink after initial creation.
5. Events with DVR turned ON can only be used once. Hence, after initial permalink creation, when you next create a new Event with DVR Turned ON, such as a CEO Townhall for July 2018, you will have to edit the monthly-townhall Permalink. Click on Details, delete the existing Event name in the Event field (using your Delete or Backspace key) and you will noticed the dropdown appear. Select the new Event, 'ceo-townhall-july-2018-8astsv' in our example and click on Update.

6. You will notice that the Permalink url remains the same while the Linked Event now shows the new Event.