Overview

StreamShark's Live Streaming product is compatible with Telestream Wirecast (from release 7.2 onwards). Let's outline the steps required to get you streaming your live event with Wirecast and StreamShark.
Telestream Wirecast
Telestream Wirecast
 is available as paid software for both PC and Mac. With Wirecast, you can stream multiple live cameras, bring in remote guests or screenshares, while dynamically mixing in other media such as movies, images, and sounds. Next, easily add production features such as transitions, instant replay, playlists, built-in titles, chroma key, virtual sets, live scoreboards and clocks. Wirecast is ideal for broadcasting professional-looking live internet shows, news, online gaming, sporting events, concerts, church services, corporate meetings, lectures and much more.
StreamShark is a partner of Wirecast and our users can access a very useful integration that reduces the number of steps required to send a contribution feed from Wirecast to an Event created in StreamShark. In this example we have used Telestream Wirecast 8.2.
High Level Instructions
Here's a brief summary of how you can use Wirecast to stream to StreamShark.
In Wirecast, navigate to Output and then Output settings. For the Destination field, select RTMP server and click on the More... button. From the list of destinations, select StreamShark.io and click OK.
Enter your StreamShark Encoder username and password to authenticate. Note: These credentials are available on your StreamShark Account Details page.
For the Channel, select the Event you want to stream to and click OK.
Navigate to Output and then Start/Stop Broadcasting. Click on Start your Event! 
Step By Step Instructions
The following section contains step by step instructions for broadcasting with Wirecast. We have already created an Event in StreamShark called Wirecast Demo.
Step 1
First open Wirecast, and click on the Output->Output Settings menu option.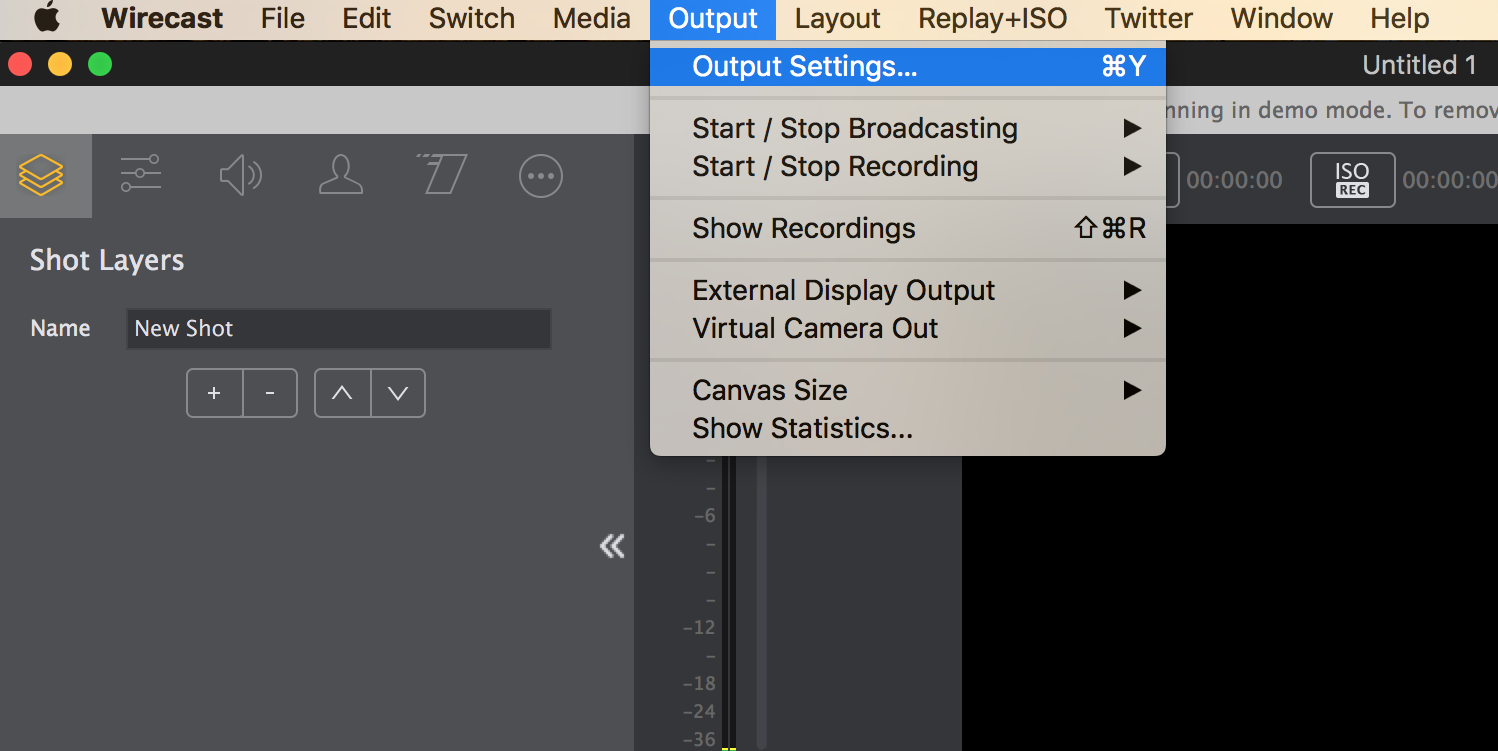 Step 2
We are going to set the Output Destination as a RTMP server.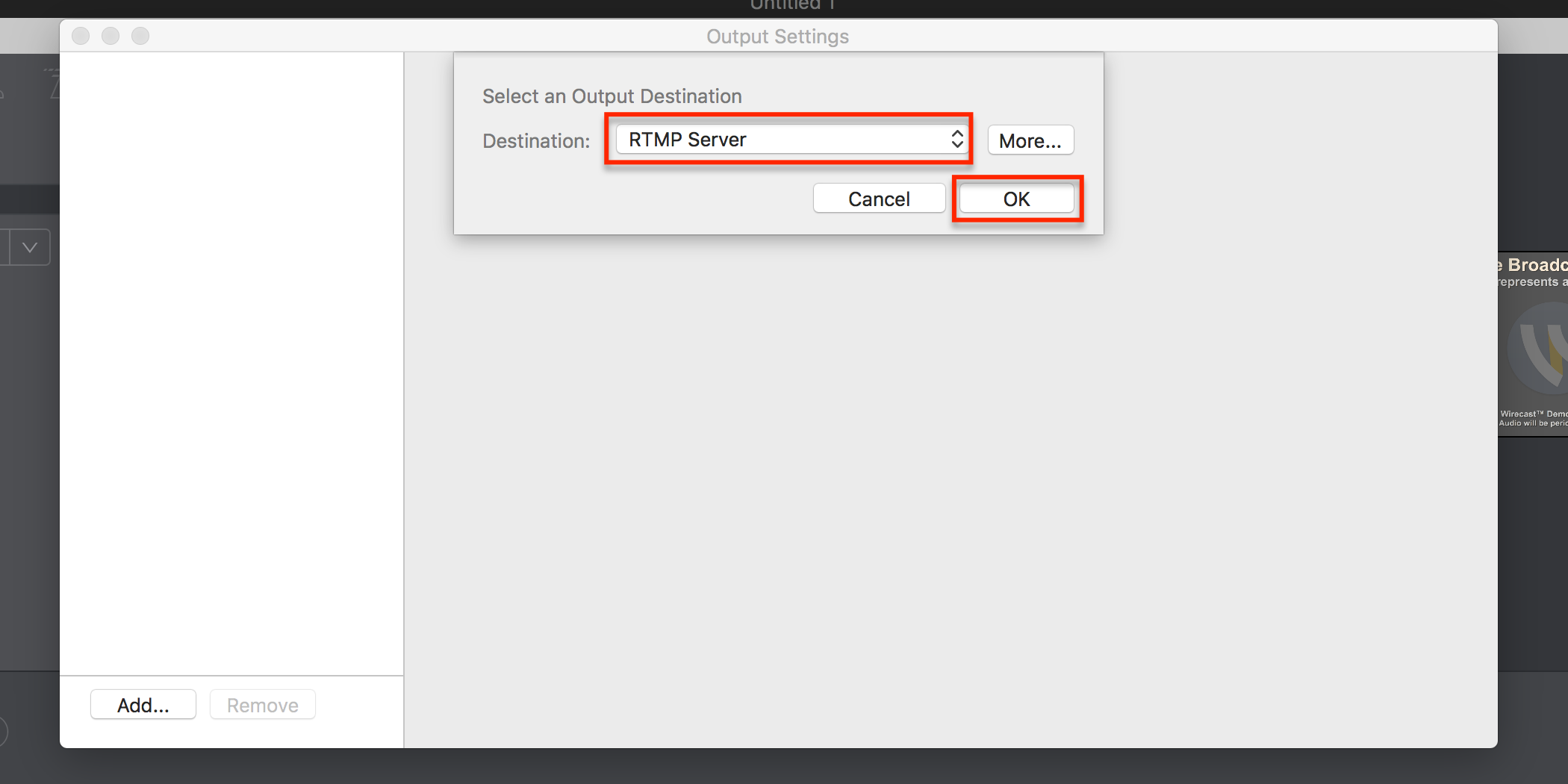 Step 3
Click on the 'More...' button and select StreamShark.io from the Visible Destinations list.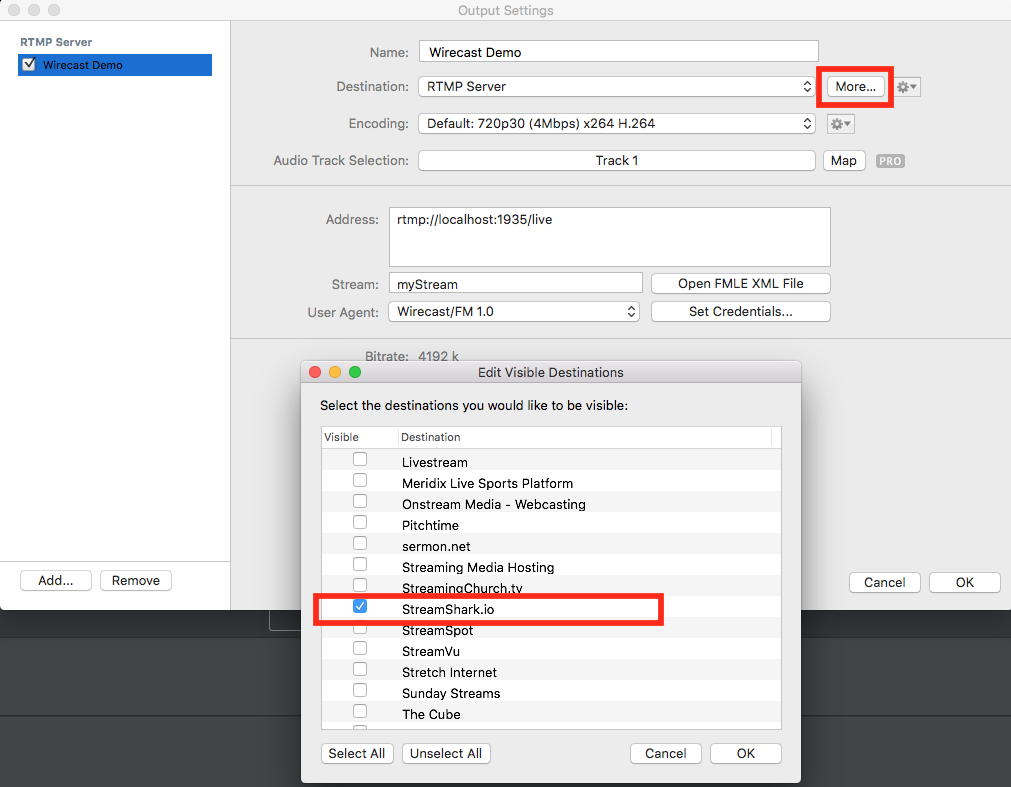 The Destination field now displays StreamShark.io and the StreamShark integration is also visible.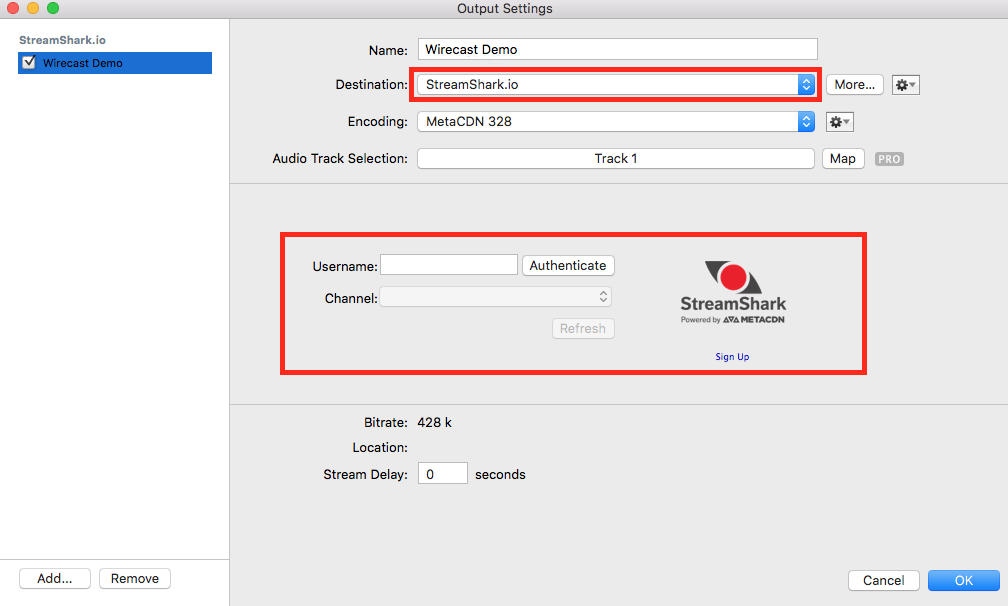 Step 4
Use your StreamShark Encoder Username and Encoder Password to Authenticate. To find your Encoder username and password, log into StreamShark and navigate to Account, and then Account Details, and copy your existing Encoder Username and Encoder Password. If you do not have an Encoder Password (e.g. this is your first time using this feature) then click the Refresh icon to generate one.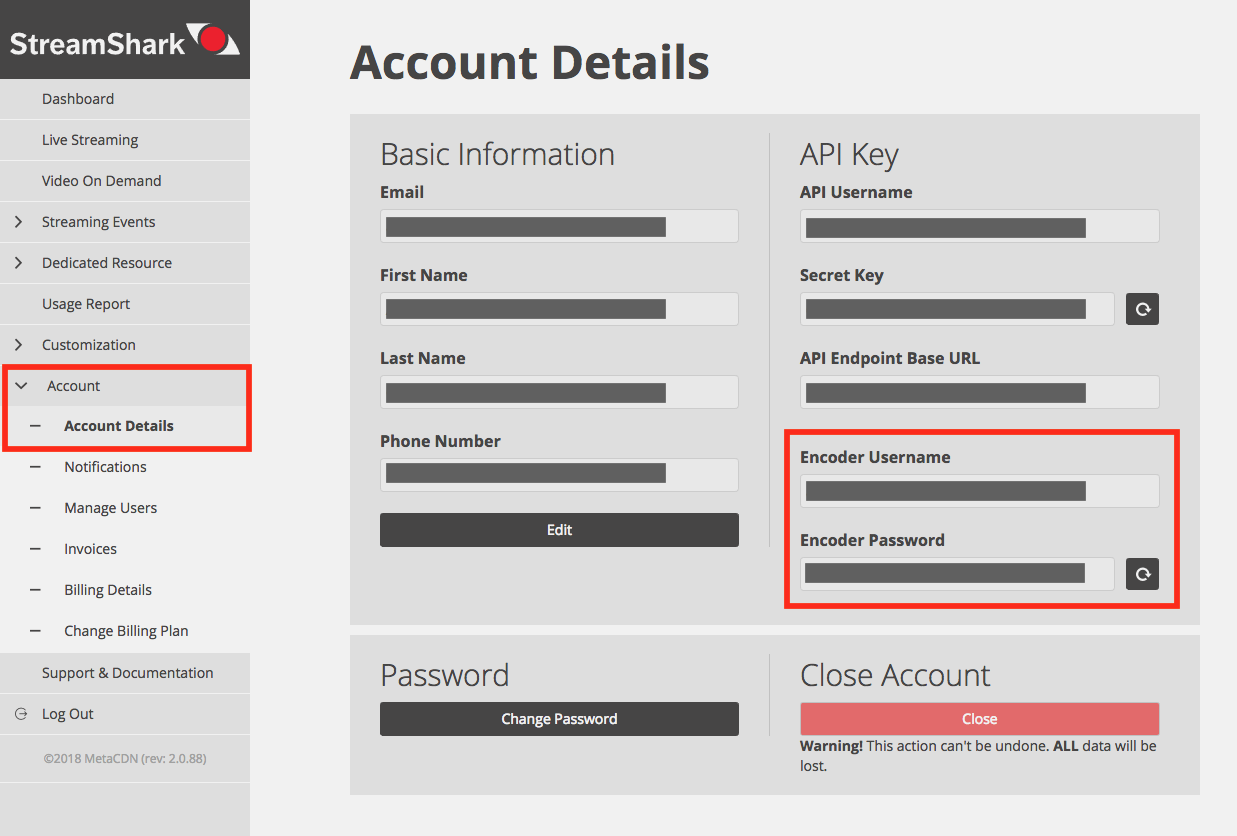 On successful authentication, the Channel field will be populated with a list of your StreamShark Events and Live Streams. Select the 'Wirecast Demo' Event and click OK.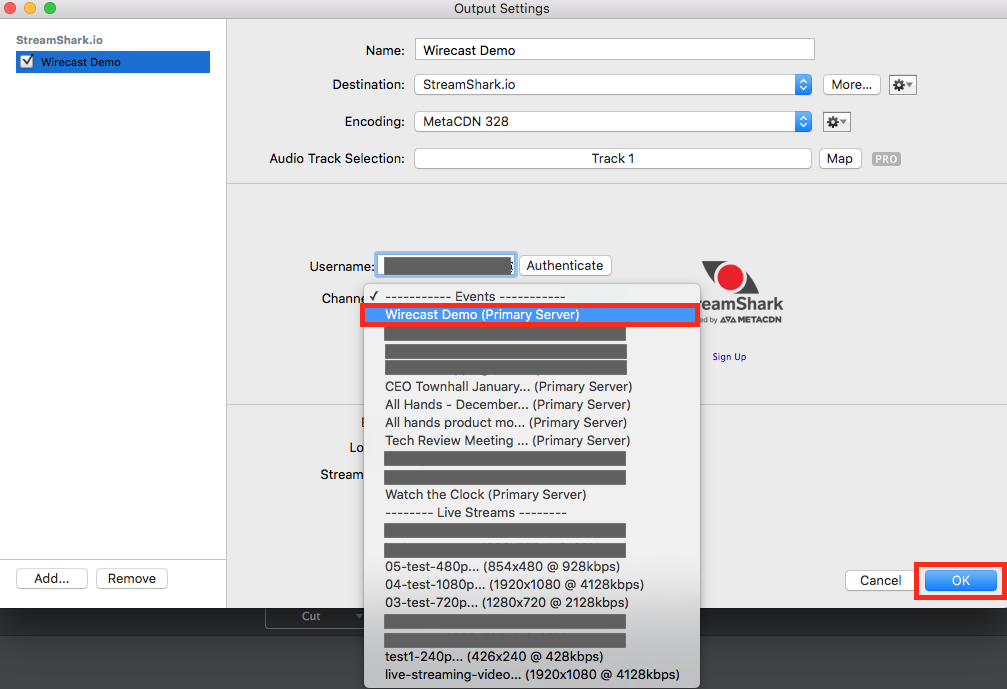 Step 5
Now you are ready to start broadcasting. Navigate to the Start/Stop Broadcasting option in the Output menu and select Start StreamShark.io: Wirecast Demo.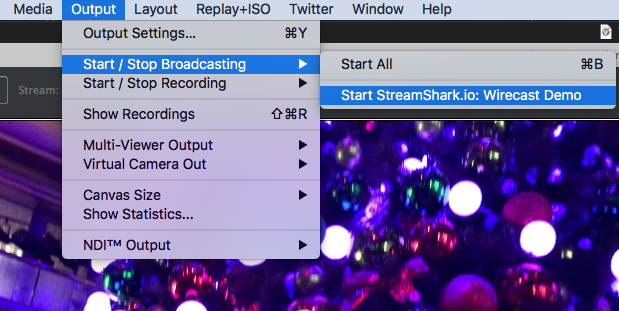 Adding a video shot
If you are new to Wirecast, here's how you can add a video shot.