In this guide we will show you how to use StreamShark's Viewer Management feature.
Note: This guide is for customers on Team and higher plans.
1. Introduction
StreamShark's Viewer Management feature allows you to create groups for whitelisting viewers by domain or email address and requires viewers to authenticate to unlock the player and watch the live stream.
2. Creating a Viewer Group
2.1 Whitelisting Domain
For the Domain Whitelist field, enter the domain(s) for whitelisting all viewers with emails that end with those domains. In the example below, we are whitelisting the domain "streamshark.io". Alternatively using "*" (an asterisk) will create a wildcard whitelist, meaning all domains will be accepted.
2.2 Restricting by email
If you want to add a list of viewers to the group, leave the Domain Whitelist field blank.
2.3 Disable Email Verification
Disable Email Verification (point 1 in the image below) will allow viewers to sign in with an email address, and not force them to verify that they have access to it. When this option is enabled you can select a Password Type (point 2 in the image below). By default No Password is selected, alternatively Shared Access Code can be selected forcing viewers to enter a password to view the content.
2.4 Magic Link Only
Magic Link Only (point 3 in the image below) restrict the access method to a verification URL sent to their email address. This option disables the viewer password option. Magic Link Only can only be enabled if 'disable email verification' is turned off.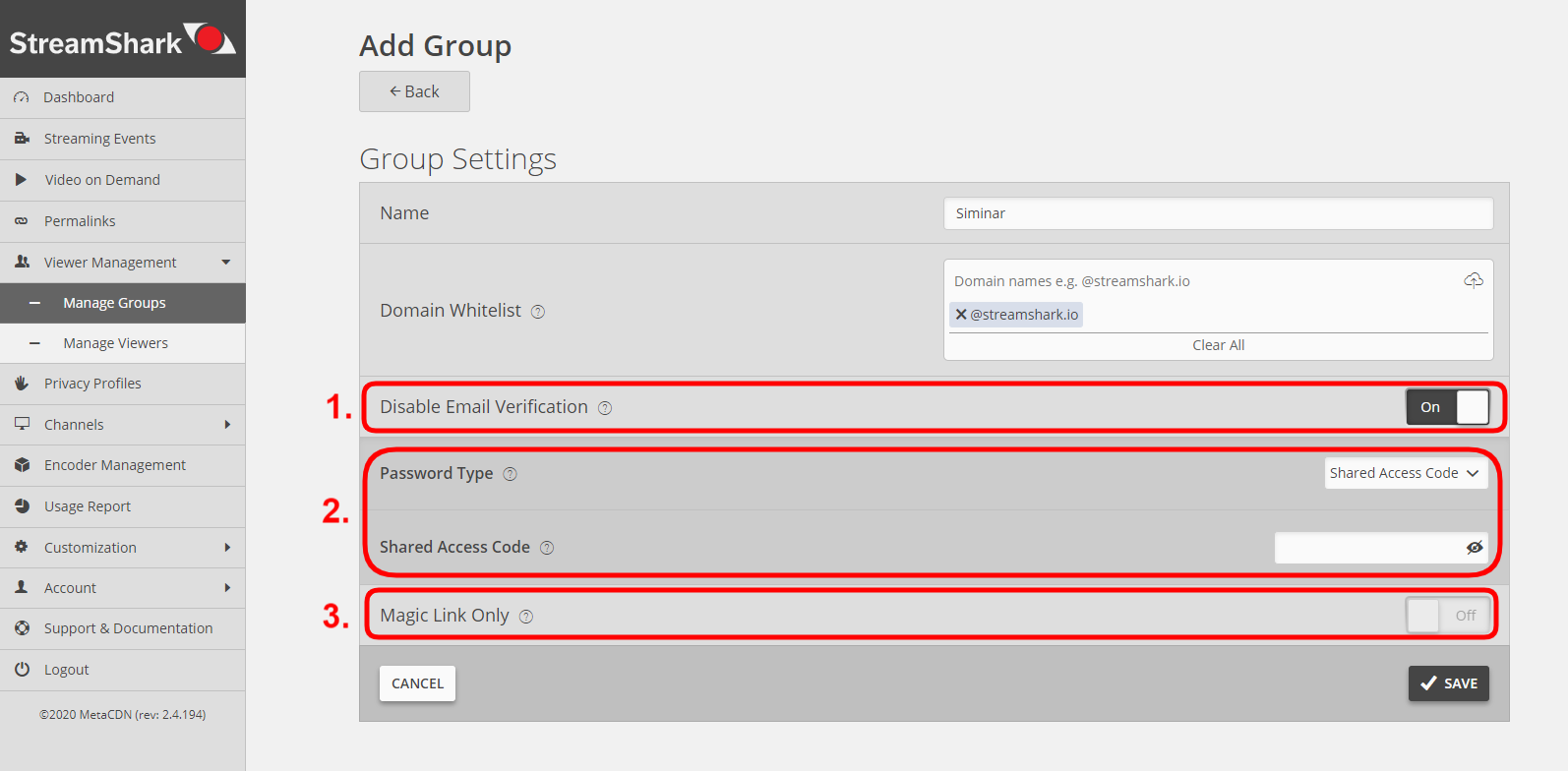 If both 'Disable Email Verification' and 'Magic Link Only' are turned off, users will be forced to create a viewer account. This involves verifying access to their email address by clicking a verification URL sent to their inbox, and creating an account password. If a user has already created a viewer account then they will be prompted to log in with their existing details, using either a password, or magic link.
3. Adding Viewers
Navigate to Manage Viewers and click on the Add button. The Add Viewers screen will appear. Assign the viewer to the Seminar group by selecting it. The viewer can be assigned to multiple groups if required.
3.1 Adding Viewers Individually
Add viewers individually by entering their email address in the Upload field one at a time.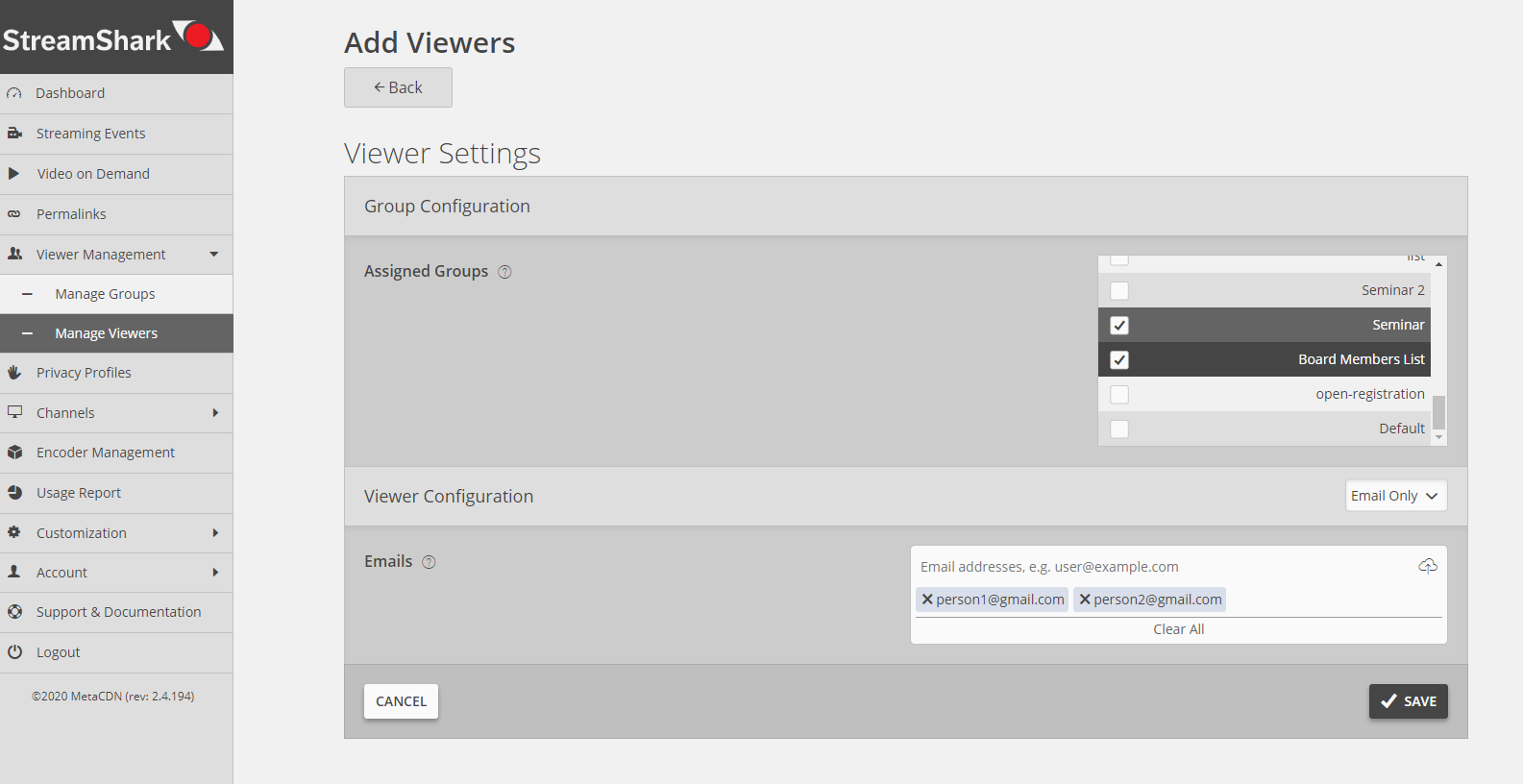 3.2 Uploading a CSV List of Viewers
Check out our detailed guide on how to upload viewers using CSV files here.
4. Manage Viewers
You will see that the new viewers have been added. By default, new viewers have the Status "UNVERIFIED". You can hover over the status name to see a tool-tip which explains what the status means.
When viewers are sent the embed link or the Channel link for the Seminar live stream and they enter their email address, they will be prompted to enter their first name, last name and password. Next, a verification email is sent to their email address. Viewers who click on the Verification link have the Status "ACTIVE" and will be able to authenticate with StreamShark and view the live stream.

5. Assigning Viewer Groups to Streaming Events
When creating a new streaming event you can assigned a viewer group under the privacy settings option. Simply turn on Privacy Settings, then under Access Control select Viewer Group. Then select which viewer groups you want to grant access for.