In this guide, we show you how Account Owners can manage sub-users for their account.
Instructions
1. Adding a New User
Log into your account, navigate to the Account menu and click on the Manage Users menu option.
To Add a new user, click on the "Add" button. The Add Subaccount screen will appear. Enter the new user's "Email" and select their "Role". Note, there are two Role types:

Users can setup and manage Events, VoDs, channels etc. Members of the AV team can be granted the User Role.
Viewers can only view screens but cannot manage an Event. For example, viewers can view an Event's real-time stats (Analytics) but they cannot control the Workflow Switcher for an Event. Members from marketing team/security team can be granted the Viewer Role.

Click on "Save Settings". You will see a confirmation message is displayed and the new user is now visible in the list displayed on the Manage Users screen.
The new User will automatically receive an email from our system informing them that they have been added as a user to the account. The email will also ask them to click on a link to select their password. Once the password is entered, users can log in to the account with their email address and chosen password.
2. Removing a User
To remove a user, from the Manage Users screen, click on the checkbox and the "Delete" button will appear for selection.
Click on the "Delete" button and a double-confirm window will appear. Click "Ok".
A successful deletion notice will appear and you will see that the user is no longer listed in the table.
3. Edit User or Reset Password for User
Click on the Settings icon (gear icon) in the Edit column of the Manage Users table. This opens the Edit User screen. It is possible to perform the following actions:
Set a New Role to the user (eg. change from User to Viewer) or
Reset Password for the User.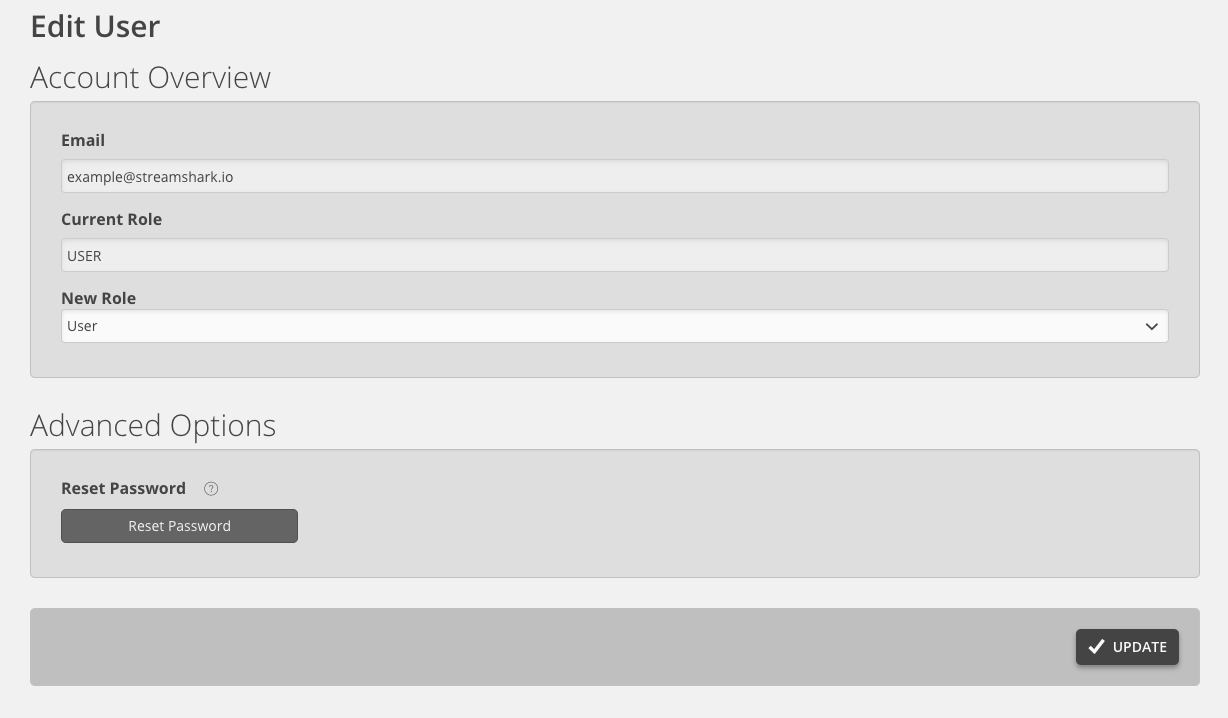 If you require any further regarding managing users to your account, please contact the StreamShark Support team.